Complete remote care, simple and with total control over the data.
The arrival of the pandemic has changed the lifestyle habits of our society, and many people have decided to incorporate the control of their health into their daily lives, taking preventive action to improve it. Telemedicine provides a source of peace of mind and wellbeing while allowing them to carry out comprehensive health management, accommodating the fact of going to the doctor's surgery with their current life.
In response to this need, DoctorUp has been offering healthcare professionals remote care monitoring since 2019, when the company connected its platform with LifeVit's activity bracelets and connected medical devices, as well as digital scales and thermometers. It is now possible to monitor pathologies remotely, taking preventive action and managing their evolution without the person leaving their home.
DoctorUp is much more than a telemonitoring platform. Health professionals can make video consultations while accessing monitoring parameters, documents that have been exchanged or prescriptions. All this on a platform prepared for access from any connected device and without the need to install software.
Thanks to telemonitoring, patient and professional have access to the data collected, making it possible to make data-driven recommendations. Guidelines, goals and recommendations can be created to help patients be more controlled, healthier and happier.
Thanks to the partnership between LifeVit and DoctorUp, access to health data is very easy and the following vital signs can be monitored:
Blood oxygen
Temperature
Heart rate
Heart Rate Variability
Respiratory rate
Blood pressure
Physical activity and estimation of calories consumed
Sleep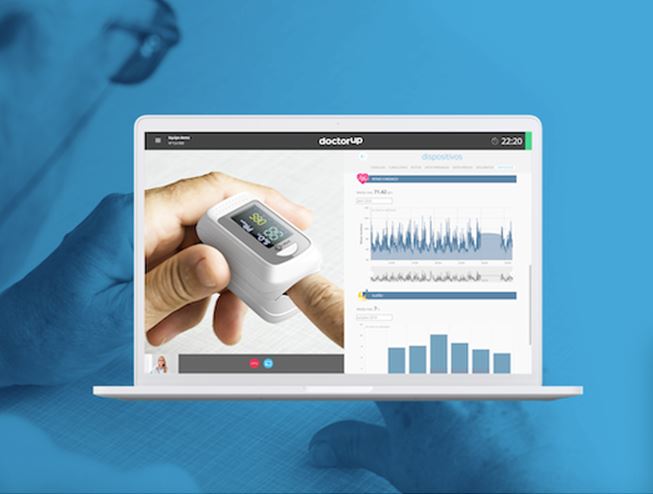 Once the user has a user account on the LifeVit app and connects it to DoctorUp, the data from their devices will be visible on the platform. DoctorUp provides a technology platform that already cares for almost 100,000 patients in 9 countries around the world and is used by hospitals and healthcare companies in compliance with European Data Protection legislation.
BHD, DoctorUp's parent company, was the first telemedicine company to sign up to the Spanish Data Protection Agency's Digital Pact for the Protection of Individuals, and forms part of the UNE working team for the standardisation of telemedicine in Spain.
Case study Fundación Hospital General Santísima Trinidad: https://bit.ly/CasoExitoMicrosoft
www.doctorup.es